The verbiage in a contract is typically boring, annoyingly detailed, legal jargon that most of us can't understand or keep attention long enough to read through. However, what if that contract was the least of your concern? What if you KNEW you could lock them in with just your conversation? As content service providers, we are familiar with the anxiety that you may get when trying to close the deal on a new project. We want you all to be just as confident in knowing that good content (whether conversational or in writing) paired with a good strategy could guarantee business for you.
A content marketing strategy is ultimately for being noticed and gaining new business. Your content represents itself so when you find a new interested potential, step in and begin your pitch! Let's say a friend referred a potential client your way, here's how you can best handle the lead and convert them into a new client by using your content and closing skills—
Step 1: Write Down EVERYTHING
Take the time to go through every step and write all detailed descriptions of what services you plan to provide. Create a closing guideline or "closing blueprint" and then set a time to meet virtually or in person to discuss. People can understand written content but will trust a conversation if there is clarity, honesty, and a genuine connection made or passion displayed about your business. Conversation can truly close a deal when written content just isn't enough. 
Step 2: Talk About EVERYTHING
While the connector may be easier to talk to, if they don't write the checks and sign the contracts, move on to who does. Graciously thank them, of course, but go to the big baller! When you've got ahold of the person making the decision, be sure to go to them with all the most pertinent information. Go over expectations, describe each item you'll complete, and leave room for needed clarity on their end. Keep their attention by selling your services, tell them everything. Show them examples of work you've done and if you don't have the extensive portfolio, give an example of what theirs could look like without "giving away the bank." Be honest with the results you can provide them and have it written plainly for them to understand. Being descriptive is key, but don't describe or exaggerate to the point of lying about what you can really offer.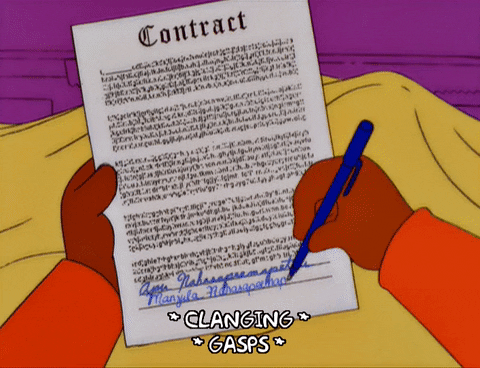 If they are totally digging your pitch, now is when you plant that urgency using your words. Write the timeline out for them. Let them know that an offer is only viable for so long before modifications may need to be made to the proposed contract. Ideally, the urgency will push a new client to act in a timely fashion. Take a second to notice where their decision might be leaning and if you *think* they are going to sign, make it happen right away! Once that contract is signed, you my friend have new business. You can thank that in part to the content that displayed and explained it all.
Step 3: Celebrate the Close and GET BUSY!
That's it. Nothing fancy to say here other than get those redbulls ready and get to work. You didn't look up fancy jargon and create portfolios of content to just seal the deal and disappear. Prove yourself and get ready to close your next contract. We totally believe in you. If you think your written "closing blueprint" needs editing or sprucing up, we'd be glad to help. 
Please reload