Small yet mighty is the name of the small business game. While you may be small in number (shoot, sometimes it's literally just YOU doing all the work), you have to find a way to make a big impact or impression in order to get noticed. Whether that's through your product (giveaways, sales, etc.), services (free consultations or trials), or marketing, you have to stand out, but in a positive manner. Let's go over a few ways to help your small business make BIG impact:
Tell your content developer your story:​​

Share with them your "why" and "how". If you can truly connect with your content developer, they will have a better understanding of how your story should be told and shared to the public.

Choose one market to focus on at a time:

Do you need to expand your marketing to everyone overall? No. Should you find ways to send a curated message to a focused demographic? Absolutely. Make your target audience feel exclusive, like your message is just for them. Here are some ways you can disseminate your content while making the recipient feel special:

Email Campaign- go direct and pop up in their inbox. Be sure to address them by name first then promote your message. Make it personal. 

Respond on Social Media- often times supporters of your brand comment on your posts on social media. Set aside an hour or two one day (as often as you'd like) to respond to their messages. You don't have to write an essay but you can simply like their comment or post and let them know you care. If your customer or client feel noticed, they feel appreciated and will likely further support your business.

Incorporate philanthropy and service:

This is everything! You don't have to be a Nonprofit to serve others in some capacity. Think about why you started your business; likely to provide a solution to a problem, right? Well, right now a lot of successful businesses are getting even more attention because of their big hearts. Look at TOMS Shoes as an example- they started as a small business with hopes of providing better footwear to those in need while selling comfortable shoes to consumers all over the world. They implemented a BOGO (buy one, give one) campaign and they have now grown beyond the limits of a small business. I know what you're thinking, you don't have the budget to give away products or services for free. You don't have to do a give-away to give! Perhaps you can find a philanthropic opportunity to sign your company up for that aligns with your purpose and mission. You can coordinate a community service activity for your small business to be a part of and make an active difference in your community.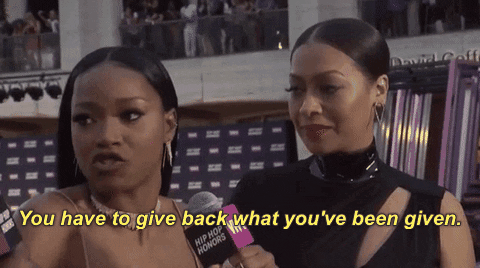 Everybody loves a business that gives back; it's heartwarming! As it's widely stated, "service is the rent we pay" so instead of only pursuing profit-only with your business, try to incorporate a service for others. Some of the most respected brands include some form of philanthropy into their mantra. Because of that, they are making a big impact in their communities. Along with their impact comes exposure so you can imagine more people learn of their business. If you are really focused on exposure, what's stopping you from doing it this way?
If there are a bunch of ideas in your head that you can't quite articulate into words, reach out and schedule a consultation with our big-hearted CEO, Juana Bethel. She would love to learn more about your business goals and how we can incorporate that into some amazing content for your business. You can reach us here and learn more about us here. If you have ideas or care to share how your small business is currently making an impact in your community, tell us in our comments section below. 
Here's to happy hearts and giving this small business thing all we've got!
Please reload